Alignment Electronics
for the New Small Wheel


ATLAS Muon Week in Israel
Weizmann Institute, 05-JUN-14


Kevan Hashemi
Physics Department
Brandeis University
http://www.bndhep.net
Existing System
The ATLAS End-Cap Alignment System Uses roughly:
24,000 infra-red LEDs (850 nm)
4,400 red lasers (650 nm)
4,000 lenses (various diameters and focal lengths)
4,000 image sensors (TC255P CCD)
2,700 RASNIK mask (various sizes and square pitches)
All powered, controlled, and read out with the Long-Wire Data Acquisition System (LWDAQ).
4,500 LWDAQ Devices
4,500 Branch Cables (CAT-5, stranded-wire, shielded, up to 10 m)
900 LWDAQ Multiplexers
900 Root Tables (CAT-5, solid-wire, shielded, up to 130 m)
120 LWDAQ Drivers (in USA15 VME crates)
Same system used by: ALICE Geometric Monitoring System, ALICE Space Frame Monitor, LHCb Inner Tracker Alignment, HIE-ISOLDE Alignment, and CMS Technical Coordination.
Overall: The system works well enough.
Obsolete Image Sensor
Texas Instruments stopped making the TC255P nine years ago.
We took images with two monochrome sensors and compared them to the TC255.
| Property | KAC00401 | ICX424AL | TC255P |
| --- | --- | --- | --- |
| Manufacturer | Eastman Kodak | Sony Semiconductor | Texas Instruments |
| Technology | CMOS | CCD | CCD |
| Sensor Area | 5.1 mm × 3.3 mm | 5.8 mm × 4.8 mm | 3.4 mm × 2.4 mm |
| Pixel Dimensions | 6.7 μm × 6.7 μm | 7.4 μm × 7.4 μm | 10 μm × 10 μm |
| Fill Factor | Estimate <80% | Observe ≈100% | Observe >90% |
| Uniformity of Dark Current | 10% | 1% | 1% |
| Uniformity of Sensitivity | 10% | 1% | 1% |
| Package Size | 12.2 mm × 12.2 mm | 12.2 mmm × 9.5 mm | 10.0 mm × 10.0 mm |
| Control Interface | Volatile Configuration Bits | Clock Voltages | Clock Voltages |
| Output Format | Serial Digital | Pixel Voltages | Pixel Voltages |
| Price | &approx;$40 | $40 | &approx;$40 |
Table: Comparison of Image Sensors.
Importance of Fill Factor
The "fill factor" is the fraction of each pixel's surface area that detects light.
A BCAM images are spots of light. We calculate position of the weighted centroid.
Insensitive regions interact with bright and dark features in the spot.

Figure: BCAM Images At Various Ranges. Source is 650-nm laser diode. Sensor is TC255.
Spots with interference fringes generate systematic errors with position within a pixel.
Rightmost image on TC255P, no such errors.
Leftmost image on TC255P, cyclic error period three pixels, amplitude 0.5 μm.
The ICX424AL has fill factor close to 100%, as well as uniform sensitivity and dark current.
We built a prototype ICX424AL BCAM and tested its linearity over the full dynamic range.
Linearity of ICX424AL BCAM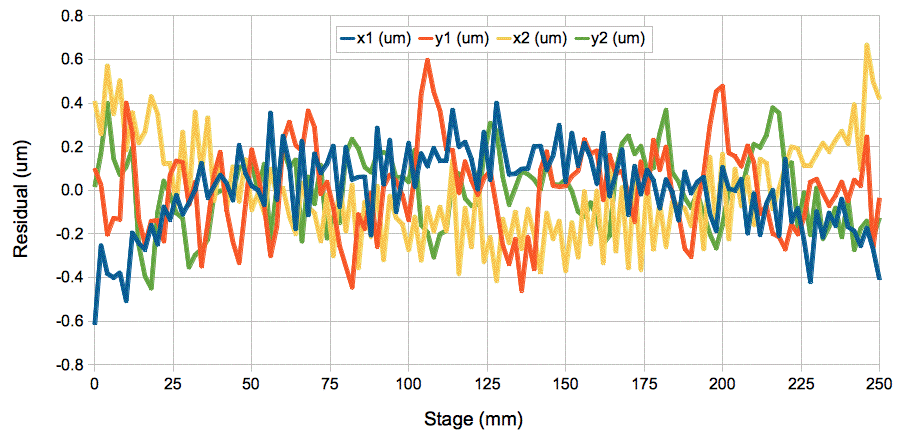 Figure: ICX424AL BCAM Non-Linearity Across Entire Field of View. Pixels 7.4 μm square. Residuals in microns on sensor plotted versus stage position. Image sharply-focused. Two red lasers at 3.1 m on 300-mm stage, camera focal range 3 m, lens focal length 48 mm, camera V0359. Repeat with poorly-focused spot residuals remain 0.2 μm rms.
Changes Required by ICX424
Existing LWDAQ Driver with VME Interface (A2037A) cannot support ICX424AL.
Need a larger logic chip on the driver.
For nSW, will design and build twenty new LWDAQ Drivers with VME Interface.
Existing TCPIP-VME Interface (A2064F) too slow for full-resolution ICX424AL images.
For nSW, will design and build three TCPIP-VME Interfaces seven times faster.
The ICX424AL is a three-phase device, while TC255P was single-phase.
The ICX424AL permits pixel binning, which requires double-clocking.
The ICX424AL camera needs four times the logic gates as the TC255P camera.
We plan to replace VHC-series logic chips with a programmable device.
The programmable device must be non-volatile, instant-on, and consume less than 5 mA.
Challenges of New Small Wheel
The nSW requires triple the number of light sources as the oSW.
We want to use only the existing LWDAQ root cables.
The nSW radiation dose will be five times higher.
We solve both the radiation resistance and density problems for light sources by switching to fiber-optic light sources rather than laser diode light sources.
We can inject power into dozens of optical fibers in one LWDAQ device.
We can place the injector towards the outer rim of the nSW, so less radiation.
We run the fibers wherever a light source is needed.
We solve the radiation problem for our cameras by study and adaptation.
Measure the camera tolerance to ATLAS background radiation.
Eliminate insufficiently tolerant components and replace with more tolerant ones.
Fiber-Optic Light Sources
We press the polished end of an optical fiber up against a blue LED.
The far end of the fiber is a zirconia ferrule with a fiber centered to ±5 μm.

Figure: Contact Injection into Optical Fiber. Fiber diameter 125 μm.
Blue LEDs are more efficient than any other color.
In the nSW plan to use LuxeonZ LED, no top-side bond wires.
Must deliver 1-A drive current to inject the required 100 μW.
Buck Regulator for LED Power
We plant to take the 30-V LWDAQ power and convert to 4-V to provide 1-A LED drive.
Air-core toroidal inductor will operate in arbitrarily strong local field.
Bipolar transistors are well-known for their radiation resistance.
Breadboard Buck Regulator
Efficiency 70% with 20-V input.

Figure: Breadboard Buck Regulator
Most of power loss is in resistance of the coil.
Will try coils with lower resistance, and more compact.
Importance of Radiation Spectra
To measure tolerance of ATLAS background, must model it in the laboratory.
To model one spectrum with another, must know both spectra, and prove equivalence.

Figure: Energy Absorption Coefficient for Air and Silicon. Data from NIST.
A 100-keV γ dose that deposits 1 Gy in Pb deposits only 0.01 Gy in air.
Specrum of ATLAS Background
Charlie Young provided a list of particles generated by 10k simulated 14-TeV p-p interactions.
We obtain the following spectrum of photons and neutrons at the inner edge of nSW.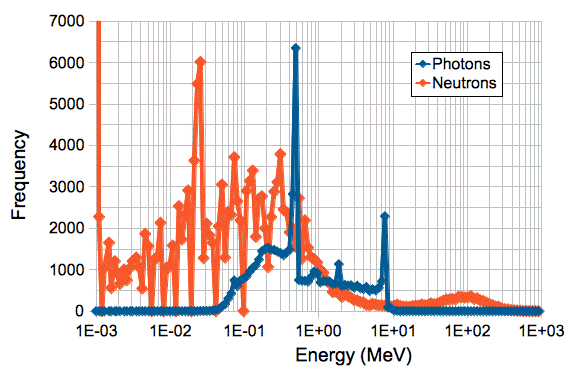 Figure: Simulated Spectra of Photons and Neutrons at Inner Edge of nSW. Bin for <=1keV contains 40,000 thermal neutrons.
Spectrum of ATLAS Background Dose Rate
Assume 72-mbarn for cross section of p-p inelastic collisions.
Assume 1034 1/cm2s luminosity and 107s/yr running time.
Convert photon and neutron frequency into Gy/yr in Si and 1 MeV ea. n/cm2/yr.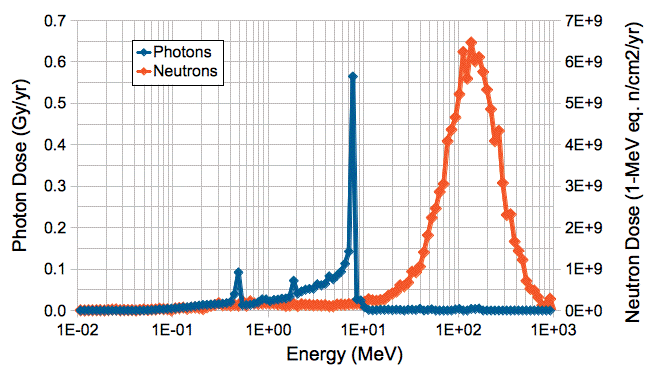 Figure: Simulated Dose Rate Spectrum for Photons and Neutrons at Inner Edge of nSW.
Irradiation with X-Rays
We are using x-rays to deliver slow ionizing doses.
Use 50-keV continuous x-ray source with 3.2-mm Al absorber.
X-ray spectrum constrained to 14-50 keV.
These x-rays will penetrate circuit boards and chip packages easily.
Dose in Si is roughly 7.3 times greater than dose in air.
Measure dose in air with calibrated ionizing chamber.
Administer dose over days or weeks, monitor electronics continuously.
Observe in repeated experiments the same increase in ICX424AL dark current.
We confirmed out dose calibration with a cesium-137 source of 500-keV γ.
Place ionizing chamber in 500-keV dose and measure dose rate.
Place ICX424 in chamber and irradiate while monitoring dark current.
Increase in dark current matches expectation from x-ray experiment.
Performance of Prototype ICX424AL Camera
ICX424AL dark current increases linearly with ionizing dose.
Dark current doubles every 8°C increase in temperature.
With quadruple-pixel readout, can operate at 450 Gy at 20 °C.

Figure: ICX424AL Image after 450 Gy. Circle marks tungston sphere absorber.
EZ500 blue LED unaffected by 1 kGy.
DG419DY analog switch fails after 300 Gy.
LC4064ZC logic chip fully functional after 1 kGy.
Total logic quiescent current increases from 3 mA to 4 mA after 1 kGy.
Note: TC255P barely affected by 1 kGy, still functional after 10 kGy.
Expected ATLAS Doses

Figure: Expected Dose Rate versus Radius in nSW. Assume 5×1034 1/cm2s and 14 TeV.
We plan to place our sensors at radius ≥2.7 m.
Ten-year dose at full energy and luminosity is ≤100 Gy.
Neutron Tests
We plan to perform two fast neutron irradiations this summer.
TC255P dark current increased linearly with neutron dose.
Expect ICX424AL dark current to increase with neutron dose also.
Will determine if neutron and ionizing damage is additive.
If neutron damage is severe, will double the readout speed with new LWDAQ Drivers.
Doubling the speed doubles the ICX424 radiation tolerance.
Expect some drop in LED power with neutron dose.
Do not expect any problems with logic chips in neutrons.
Single Event Upset Tets
None of our devices run code or contain RAM cells.
Power down after data acquisition is standard operating procedure.
Any disrupted action will be noticed and rectified by repetition.
Therefore: we are not vulnerable to single event upsets.
Have no plans to perform single event upset tests.
Conclusion
New light source: fiber optic cable with contact injection, proven in BEE.
New image sensor: ICX424AL, accuracy established by prototype BCAMs.
Will design and build new LWDAQ drivers, multiplexers, and patch panels.
Believe we understand the ATLAS Background well enough to test radiation tolerance.
Have been performing ionizing tests.
Starting neutron tests this summer.
If ICX424AL is too vulnerable to neutrons, will speed up readout with new drivers.
Will replace analog switches with discrete mosfet switches.
New, non-volatile, programmable logic more compact, flexible, tolerates >1 kGy.
Confident that buck regulator LED power supply will tolerate >1 kGy.
Appendix: Linearity with Quadruple-Pixel Readout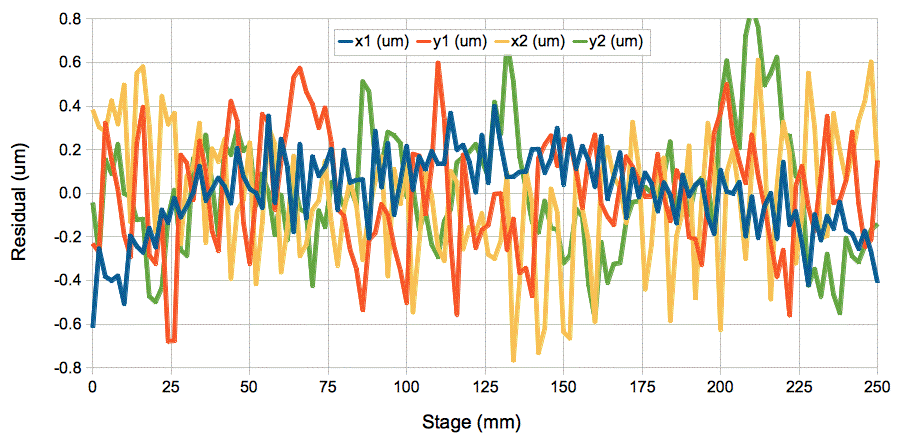 Figure: ICX424 BCAM Non-Linearity Across Entire Field of View with Quadruple-Pixel Readout. Pixels 14.8 μm square. Residuals in microns on the image sensor plotted versus stage position. Image sharply-focused. Two red lasers at 3.1 m on 300-mm stage, lens focal length 48 mm, camera V0359. Repeat with poorly-focused spot residuals remain 0.2 μm rms.
Appendix: Dose Map from Background Group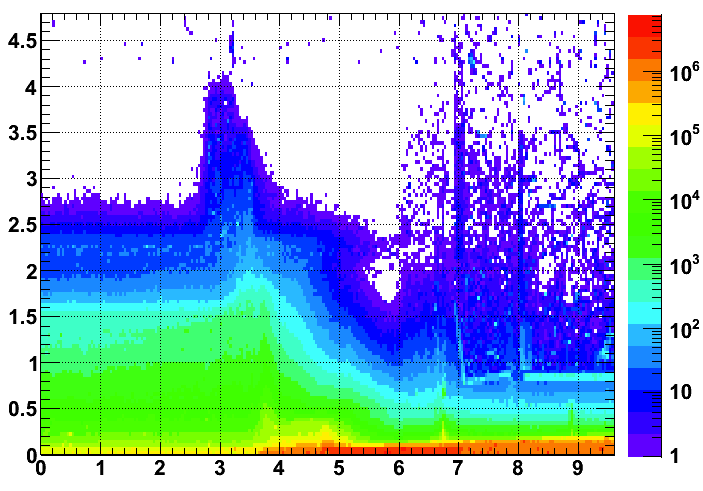 Figure: Simulated Total Annual Ionizing Dose, Gy/yr. Luminosity 1034 1/cm2s, energy 14 TeV, 107 s running per year, 2012 detector geometry.